Nau mai, Haere Mai, Welcome!
The Manukau Symphony Orchestra (MSO) is a community orchestra based in South Auckland, New Zealand. The orchestra presents a series of varied concerts annually to patrons from across Auckland at the Due Drop Events Centre (formerly the Vodafone Events Centre), Manukau and Te Tuhi Art Gallery, Pakuranga.
Established in 1993 as 'Manukau's orchestra' with active support from the Manukau City Council and the Manukau community, the MSO has grown from a 22-piece ensemble to a full symphony orchestra with around 80 musicians. The orchestra regularly collaborates with youth players and choirs in Auckland.
The MSO traces its origins back to the 1970s, and the Howick Orchestra and the Howick-Pakuranga Youth Orchestra in the 1980s.
Through the orchestra's unique 'Players as Mentors' programme and youth scholarship initiatives, the MSO is the only symphony orchestra in South Auckland able to present a full range of genres from small ensembles to established orchestral repertoire to 21st century works at a high standard.
Committed to the development of new music by Aotearoa New Zealand composers, the MSO has worked with, and/or commissioned new works by Chris Artley, Warwick Blair, Dorothy Buchanan, Claire Cowan, Gareth Farr, David Hamilton, Leonie Holmes, Philip Norman, John Rimmer, Anthony Ritchie, Eve de Castro-Robinson, Ahukaramu Charles Royal, David Grahame Taylor, Robin Toan, and more to date.
The Manukau Orchestral Society highly values, and thrives on the diversity that its staff, players and audiences bring to the organisation. The MSO strives to reduce discrimination and racism, and increase social inclusion for all ages, genders, the Rainbow Communities, disabilities, national origin, new migrants and any religion.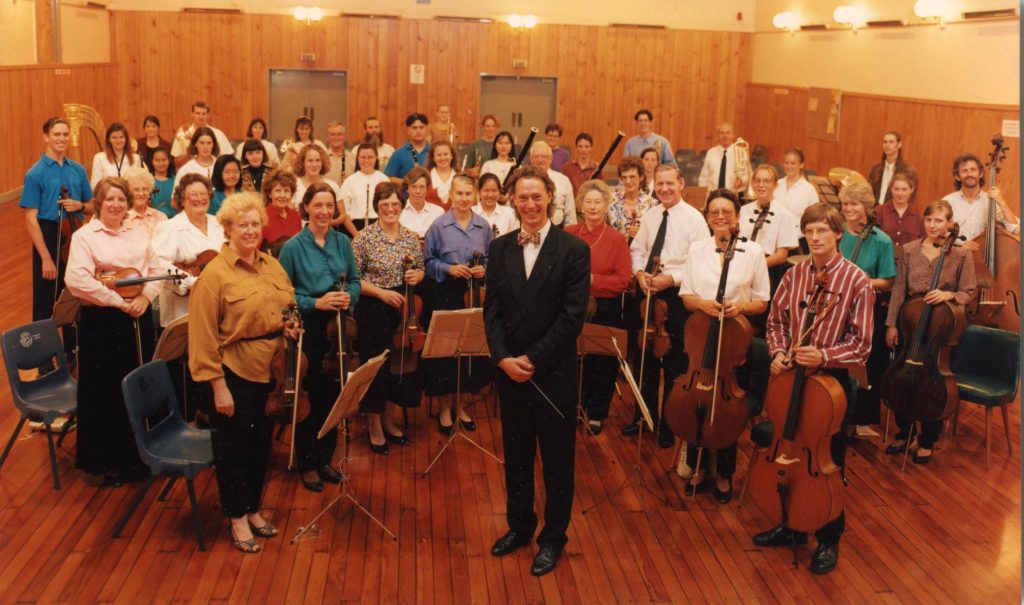 1993   Manukau Symphony Orchestra established, Founded by Mrs Anne (Terry) Spragg (MNZM)

1994   Music Director, Uwe Grodd, appointed. First concert at the Papatoetoe Town Hall.
1997   First scholarship awarded to Loata Mahe.

2000   First Symphonic Journey workshop.
2005   MSO performs at the opening of TelstraClear Pacific (now Vodafone Events Centre).
2006   First annual subscription series. First concert bus from Howick.
2013   20th anniversary. Beethoven Symphony No. 9 'Choral'  in collaboration with Auckland Choral.
2018   25th anniversary. Handel Music for the Royal Fireworks with MSO alumni.
2021   Ihitai 'Avei'a – Star Navigator World Premiere Opera collaboration with New Zealand Opera – sell out season.
Manukau Symphony Orchestra is administered by Manukau Orchestral Society Incorporated — a registered charity.
Chairperson: David Nathan
Secretary: Agnes Harmath-Parkin
Treasurer: Zane D'souza
Committee: Alistair Greenwood, Olive Lai, Deirdre Nielsen, Simon Smith
Music Committee: Simon Smith (Convenor), Kate Candy, Uwe Grodd, Shelley Robertson, Michael Steer, Sarah Thompson, Ann Whitehouse
General Manager: Shelley Robertson
Music Director: Uwe Grodd
Orchestra & Stage: Alistair Greenwood
Funding Co-ordinator: Alistair Greenwood
Health and Safety Officer: Olive Lai
Administrator: Agnes Harmath-Parkin
Librarian: Ann Whitehouse
Ticket Bookings: Shelley Robertson
Patrons: Sir Noel (KNZM) and Lady Robinson
Life Member: Terry Spragg (MNZM)
Hon. Ambassadors: Jim & Ella Donald