Written by Kate Candy Colbert
Welcome to the Wind Section of the Manukau Symphony Orchestra (MSO)! We are very fortunate to have a dedicated team of Principal players and the section is supplemented by very experienced additional players. The number of additional players depends on the repertoire that has been chosen for a specific concert and how many players the composer of the music specifies in the conductor's score.
Flute Principal Melody Lin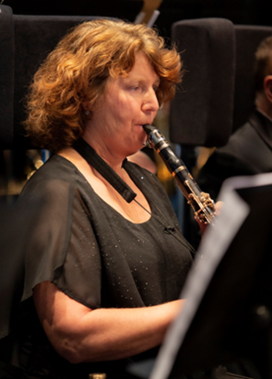 Clarinet Principal Julia Cornfield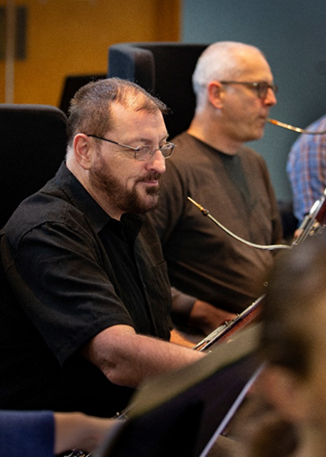 Bassoon Principal Philip Sumner
Additional Wind section players for the Brahms 4 Concert 2021 (which included NZ Composer David Hamilton's Fanfare For Matariki, commissioned by MSO)
Our additional wind players for the concert included Simon Smith (2nd Bassoon), David Nation (Contrabassoon), Naomi Dekker (2nd Clarinet), Zoe McCalman (2nd Oboe), Agnes Harmath (2nd Flute and Piccolo), and Rosene Spence (Piccolo).
 Additional players for the Brahms Violin Concerto Concert 29 May 2022
Our additional wind players for this concert include Agnes Harmath (Flute), Simon Smith (2nd Bassoon) and Hannah Boocock (2nd Clarinet).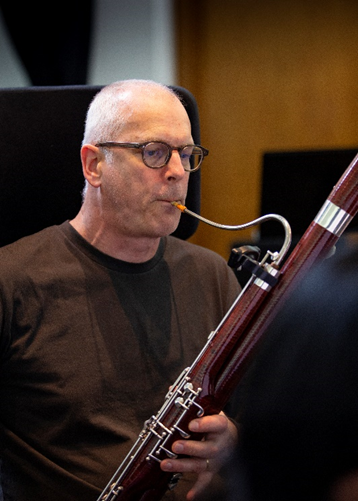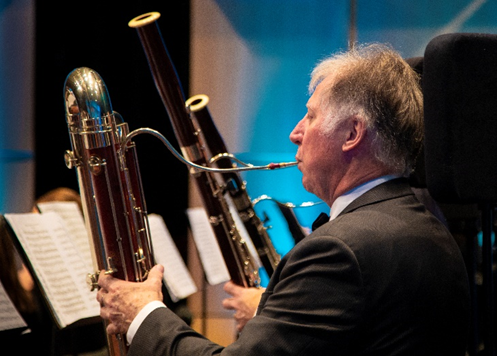 Contrabassoon David Nation
2nd Flute and Piccolo Agnes Harmath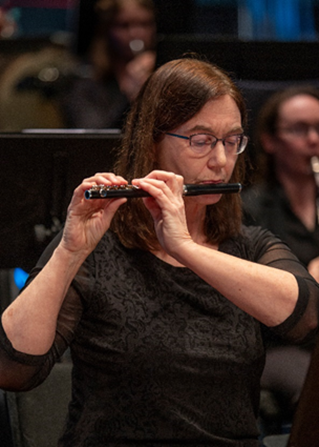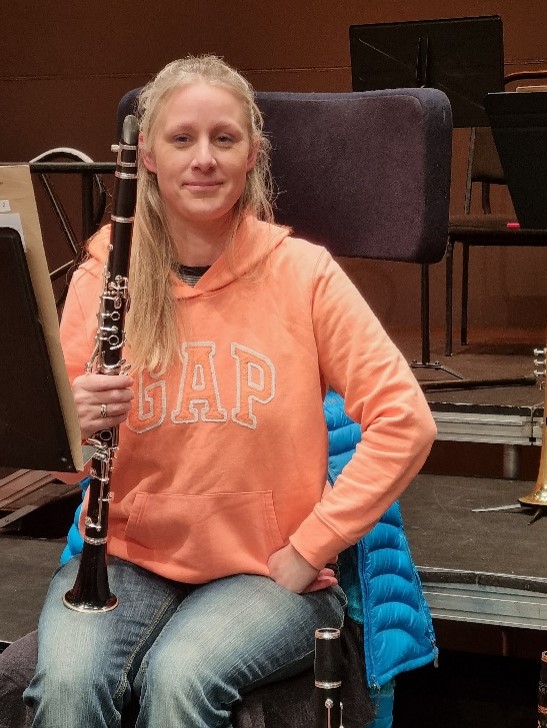 2nd Clarinet Hannah Boocock
To get to know our most regular wind players we thought we would ask them some questions. Here are the highlights:
How did you choose your instrument?
Melody Lin: I went to a flute concert when I was young and fell in love with the beautiful silver instrument on the stage. The sound of the flute was mesmerising, and I knew then I wanted to play the flute.
Agnes Harmath: I originally wanted to play the piano but when I was young, we lived in a small apartment, so my parents suggested I play the flute. I almost ended up playing the clarinet as the music school ran out of flutes to hire but after I strongly protested, they found a flute for me from another school.
Philip Sumner: I started to play the clarinet at age 14 in High School but very soon by the prompting of my teacher switched to Bassoon to keep me challenged.
Simon Smith: I had been learning the Double Bass and both the bass and I agreed we were not a good match! My music teacher had a bassoon in the cupboard at school and suggested I give it a try.
Joy Liu: I fell in love with the oboe as soon as I heard it and wanted to learn it from age 4. My father taught the oboe, and my parents had a deep appreciation for music. I started lessons from the age of 9 and ever since the oboe has been a constant companion that provided me with inspiration, curiosity, consolation and connection.
Julia Cornfield: I chose to play the clarinet when I was at primary school in the UK when I heard it being played by the Itinerant Music teacher and pestered my mother into letting me have lessons. I was immediately hooked!
Hannah Boocock: I originally wanted to play the Flute but my older sister began playing the Clarinet and I kept picking up her clarinet to play so my parents had to get me my own one so my sister could get to use hers!
What year did you join MSO?
Melody: In 2006.
Agnes: I played in a workshop with MSO for the first time in 2000.
Philip: In 2010.
Simon: I started playing in MSO in 2017.
Joy: A long time ago while I was still at High School I played in a Symphonic Journey workshop in the Papatoetoe Town Hall.
Julia: I joined the MSO in 2003 when I moved to New Zealand from the UK.
Hannah: Since 2009 on and off and I play when I am needed.
What is your favourite Wind Ensemble music, and why?
Melody: I like all Wind Ensemble music because of the timbre and colour
Agnes: No favourites as I love playing in all different combinations of wind ensembles, but I love Mozart Flute Quartets for Flute and strings and would love to play the Poulenc Sextet one day.
Philip: Richard Strauss's two Wind Symphonies, as they are masterpieces of late romantic harmonic structure and specialised orchestration for wind instruments.
Simon: Anything that includes interesting wind arrangements. I also like Rachmaninov's Symphonic Dance #1 as it has some lovely wind writing and a meaty contrabassoon part.
Joy: Barber's Summer Music for Wind Quintet, Strauss' Serenade for Winds, Ligeti's Six Bagatelles for Wind Quintet. These pieces are highly expressive and interactive for me – challenging and always keeping me on my toes!
Julia: I love all the Mahler Symphonies as they are so interesting and complex for the woodwind. I was so disappointed when MSO had to cancel Mahler 4 twice!
Hannah: I have always enjoyed Clarinet Choirs and one that came to mind is an arrangement for Queen of Sheba by Handel.
What is your favourite Orchestral excerpt?
Melody: Debussy's Prelude a l'apres-midi d'un faune.
Agnes: Bizet Entr'act from Carmen and reh Minuet from L'Arlesienne Suite No. 2 both with harp are my favourites.
Philip: The 4th Movement of Shostakovich's Symphony No. 9, which is almost entirely a declamatory and lyrical bassoon cadenza. Also, the playful opening theme of the last movement.
Simon: The second movement of Beethoven's 7th Symphony ticks all the boxes and includes a great bassoon and oboe duet.
Joy: It's a tie between Brahms Nanie Op.82 and the Brahms Violin Concerto.
Julia: One of my top ones has to be the clarinet solo in the slow movement from Rachmaninov's Symphony No. 2.
Hannah: I really enjoy Elgar's Enigma Variations.
Tell us something about yourself that is not music related.
Melody: I also work as a Certified Feldenkrais Practitioner and enjoy helping people improve their co-ordination, flexibility, posture and breathing. In my spare time I enjoy going out into nature and baking healthy treats for my kids and puppy!
Agnes: I'm the Accounting Administrator for MSO, have 3 kids and in my spare time I play interclub tennis for Buckland Beach Tennis Club.
Philip: I'm a perpetual tinkerer with computers, house renovation and anything capable of being pulled apart. As I rarely finish any project, I tend to live in a bit of a perpetual mess!
Simon: I work for an IT company that designs and builds data centres. I am also asked regularly how tall I am! (I'm 6'7").
Julia: I love the sea and try and swim throughout the year without a wetsuit! I keep reminding myself that the winter sea temperatures in Auckland are about the same as the summer ones in the UK.
Hannah: I work for St John, in the Education departments. I am a qualified Ambulance Officer and have volunteered for many years. I come originally from the Isle of Wight, England which is where the America's Cup originated. I love mountain Biking.